Collective Soul co-founder Will Turpin gets his Way with new band, CD and tour.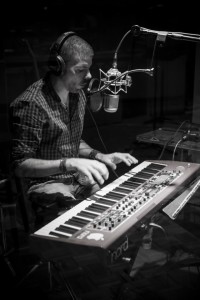 Hot on the heels of a national tour with Collective Soul and a year after his debut solo EP, musician Will Turpin is headed into the studio with a new band for his first full-length CD, Serengeti Drivers. Beginning Oct. 8, Will Turpin and The Way have begun their first studio effort.
The CD is being co-produced by Real 2 Reel's Jonathan Beckner and will include almost a dozen new tunes. "You'll hear elements of a lot of different musical influences," Turpin said. "Some Beatle-esque songs, some rockin' numbers, and some real laid back stuff. The vocal mix of the three singers will be smooth enough to savor with a glass of wine or kick up your heels with a beer." In addition to Turpin (keyboards and vocals) the band lineup includes Jason Fowler (guitar and vocals), Mark Wilson (bass and vocals) and Scott Davidson (drums).
Turpin said seven of the songs were co-written by Fowler, an Atlanta-based musician and friend. "A lot of times I have an idea for a song that is not finished or is halfway complete and Jason is able to help me out with a riff or a vocal melody or theme," Turpin said. "Then there are times when we can create something right on the spot. We're a good team."
This holiday season, Turpin's version of "What Child Is This?" will appear on A Rock By The Sea Christmas : Volume Three, a charity CD series set for release on Oct. 16. Net proceeds from the 13-song Christmas compilation will benefit the Pediatric Brain Tumor Program in Orlando, Fla.
Turpin's other group, Collective Soul, is a member of the Georgia Music Hall of Fame and has sold more than 10 million albums worldwide. Collective Soul has attained seven No. 1 songs and 19 Top 40 singles, making them one of the most successful bands of the 1990s. They are planning a 20th anniversary tour and boxed set CD package in 2014.
Will and The Way Press Release
View the photo album on our Facebook page