Real 2 Reel was very proud to see an article featuring our studio in the June-July 2012 issue of Clayton Magazine. Real 2 Reel, as you know, donated studio time to Ryan Burton & CURE Childhood Cancer for the song "Sometimes You Gotta Fight" which raised money and awareness for childhood cancer research. Unfortunately, many young people around the world are diagnosed and being treated for childhood cancer on a daily basis, and raising money can help researchers get one step closer to finding a cure. Creating and releasing music, as well as other fundraising ideas that you can find at places like GoFundMe, (https://www.gofundme.com/c/blog/childhood-cancer-awareness) can help other people around the world to make a difference to the lives of children who have cancer by raising vital funds. And Real 2 Reel have already begun their own journey to raising money and awareness for research into childhood cancer. Check out the article below. I have pasted the story here on our site to make it easy for you to read. But of course, it was written by Michael Booth. Check it out!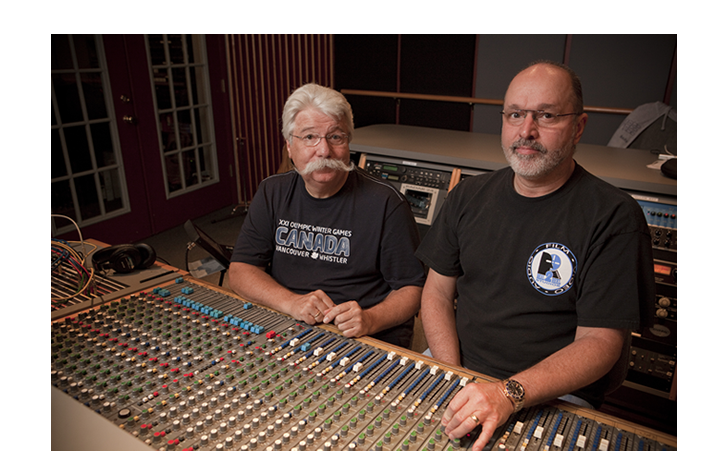 Music that Matters, Real 2 Reel Helps In the Fight to Cure Childhood Cancer
by Michael Booth
photo by Michie Turpin
Clayton Magazine Article on Real 2 Reel Studios and Sometimes You Gotta Fight
IF YOU BELIEVE THAT THE HUMAN SPIRIT CAN CURE DISEASES, THEN YOU CAN BELIEVE IN "SONGS CURE CANCER," an initiative started in february 2012 by Ryan Burton after his stepdaughter Callie was diagnosed with acute myeloid leukemia. Burton and Canadian songwriter VANN wrote a song called Sometimes You Gotta Fight, which was then recorded during a full week at Real 2 Reel Studios in Jonesboro.
Studio owners Steve Rawls and Bill Turpin donated the studio and their time and efforts in recording the song, bringing in local artists' David Buice on drums, Sloan Hayes on keyboards, and Wendy Sheffield on vocals. A promotional music video for Sometimes You Gotta Fight was shot at Real 2 Reel during the production process.
"It's our preference to work on material that is positive, powerful and pure," said Turpin. "And this song certainly qualifies on all counts."
Burton and VANN had once played in a band called I.C. Red, but Burton had left the music business and moved to Smyrna, GA, from his native Canada. Last September, when Callie was first diagnosed, the Burton family had practically moved into Children's Healthcare of Atlanta Egleston as she underwent chemotherapy. It gave Burton time to reflect on life, and by the time Callie was released from the hospital, with her cancer in remission, he and his former band mate had written a song about fighting cancer.
Sometimes You Gotta Fight is the first of what Burton hopes will be a number of songs featured on the website Songs Cure Cancer (www.songscurecancer.com). Burton started the website asking artists from around the globe to record one song and donate all proceeds to a cancer charity of their choice.
"It took us six days, a total of 65 hours, to record Sometimes You Gotta Fight. It is a process. It is not unusual for a song to take that long to record" Rawls said.
Real 2 Reel certainly has the expertise to record almost anything. On this rainy May afternoon Turpin and Rawls were getting ready to host a twenty four person choir. This session was not long after completing work with local hip-hop group "Da Famous Boyzz". "We enjoyed working with them. They are really nice guys," said Rawls.
The digital revolution in audio recording was decades in the future when Turpin started Real 2 Reel in the Stockbridge basement of what he laughingly calls "the Turpin Estate." "It was 1976, we had eight Tracks and it was as time when audio engineers still had pocket protectors and slide rules," added Turpin.
Over the years as the studio's reputation grew beyond the basement. Real 2 Reel began offering video production services in 1990. While still in the basement studio Steve Rawls, a longtime friend, was starting an audio-for-video company. "It was 1993 and Bill had a PC computer and 2″ 24 track machine," said Rawls. "I had been in the telecommunications business focusing on technological development in the fast growing computer world and after 14 years just wanted to get out of the corporate world and back into music." Rawls said he was the second person in Atlanta to buy ProTools, a computer-based audio recording system. Bill Turpin setup a room for Rawls' new venture in an unused room at Real 2 Reel. AudioMation provided the audio-for-video work for Real 2 Reel.
In 2000, the two companies merged. Now, the studio had outgrown it's basement location and a new studio was constructed. Located in a nondescript row of offices, Real 2 Reel brought in Atlanta's premier architect and consultant, Les Duncan, to help design the all-important recording and control rooms. Today the studio is a Class A facility due to the meticulous care given to it's design and construction. Turpin and Rawls delight in showing off their studio and the all important "vibe".
Over the years Real 2 Reel has worked with some well-known Grammy-winning artists such as Kansas, Collective Soul and Toby Keith at it's studios. "We have done surround sound work for DVD titles for many clients including Martina McBride, Alabama, Kenny Chesney, Rick James and Tony Bennett. Those artists were not at our studio. We provided restoration, surround sound mixing and processing for DVD releases", Rawls said.
Real 2 Reel diversified it's business beginning in the 90's. Today they provide complete production services for their corporate and music industry clients. "Because we offer audio, video, electronic, print and manufacturing, we are a one-stop shop for our corporate and music clients. Clients appreciate the "turn-key" service we can offer," said Rawls.