by Josh Perschbacher  –  My road to the Walt Disney Concert Hall Organ started almost as a dare from a Facebook friend. I was looking around for pipe organs to record when someone suggested I look into one of the most improbable instruments. The Walt Disney Concert Hall is one of the most prestigious venues around. It's the west coast version of Carnegie Hall. So I just sent an email asking if I could and it just snowballed from there. The organ builder heard my previous albums and he passed along his recommendation to the management of the hall. They gave me a good price to rent the hall for three days to record so I jumped on board!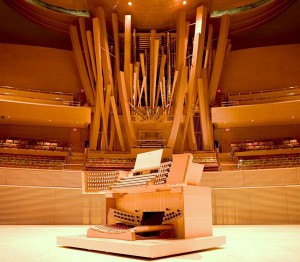 My organ music is a little different than everyone else's. I use a computer the play the notes instead of my hands. It gives me much more control over every aspect of the performance. It also gives me superhuman abilities to things that no human can do. By utilizing MIDI I'm able to take a symphony and apply it to the organ as if the organ was an orchestra. I can assign parts from the orchestra to play on the organ keyboards I choose. With the Disney Organ I had 5 MIDI channels to work with. So I took the woodwinds, brass, and strings, and divided the parts up to make the most use of the organ while still maintaining the original orchestration. Also with midi I couldn't just plug the notes in and let it play. When people play music there is always an expanding and contracting tempo. It is never static. A computer will play the notes static. Part of my job is also to program those subtle human elements back into the music.
About Josh Perschbacher – Josh self-records his CDs.  His last 3 releases (Sinfionetta, Carnivale and his new release, Bombasia) were mastered and replicated by Real 2 Reel Studios.  You can find out more about Josh and his musc by visiting his website or find him on Facebook.